About This File
Third Job Costumes + New Classes
The Correction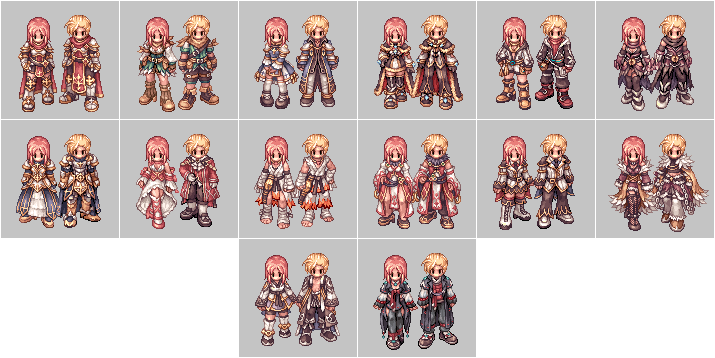 With the advent of jRO releasing new Job Costumes, and also, the new classes from the Taekwon branch, many of server owners want to replace the vanilla sprites or even, implement the bodystyle system.

But, there's a catch! Originally jRO, and now, even kRO spriters, have  made it completely off of the default pattern of palette.
In a classic example, you can notice the pattern of the RO palettes.
What matters is the position of the colours, as an example, for all jobs, the white-ish tones will be always on the same row, so we can use it to create custom palettes.
See how it works:
But jRO didn't follow the classic pattern, making it incompatible with custom palettes (@Kamishi ones included).
So, I edited frame by frame of each job sprite, of each gender, mounted or not, correcting them, converting them in a way so many of the previously created palettes will work.
This package includes:
Alternate Outfits:
Alternate Royal Guard M/F + Gryffon Battlemount + Lion Mount
Alternate Ranger M/F + Warg Battlemount + Ostrich Mount
Alternate Minstrel/Wanderer + Ostrich Mount
Alternate ArchBishop M/F + Alpaca Mount
Alternate Warlock M/F + Fox Mount
Alternate Mechanic M/F + Savage Mount
Alternate Genetic M/F + Savage Mount
Alternate Guillotine Cross M/F + Hyena Mount
Alternate Shadow Chaser M/F + Hyena Mount
Alternate Sorcerer M/F + Fox Mount
Alternate Sura M/F + Alpaca Mount
Alternate Rune Knight M/F + Dragon Battlemount + Lion Mount
New Classes
Star Emperor M/F + Wolf Mount
Soul Reaper M/F + Wolf Mount
As requested by @Emistry, I also added an extra, making it more compatible to default palettes:
Kagerou/Oboro + Frog Mount
Following the another @Emistry's request, all files are now already on GRFs.
The previous version had no Cashmount palette included, this one fixes the issue.
Only the already released costumes are supported at this moment.
The Rune Knight seems to be the last of them, it's over a year from the first release!
As a final part of the package, I'm including Classic Palettes for all Alternate Costumes.
Enjoy the final product!
---
What's New in Version
2.0.0
See changelog
Released
1.0.0 - Released!
1.1.0 - (04/13/2016) ArchBishop Released!
1.2.0 - (09/28/2016) Ranger, Warlock Added & Extras Released!
1.3.0 - (01/09/2017) Wanderer, Minstrel Added & Classic Palette GRF Released!
1.3.1 - (01/11/2017) Revamp, Mounted Royal Guard (Griffon) Fixed.
1.3.2 - (01/19/2017) Folder Structure Fixed.
1.4.0 - (03/24/2017) Shadow Chaser Released, Converted to GRF.
1.5.0 - (08/21/2017) Sorcerer Released, Palette Pack Removed.
1.6.0 - (09/19/2017) Sura Released!
2.0.0 - (01/01/2018) Rune Knight Released!