Available Services
Website:
https://vhost.rocks/
About My Services
Brand New Cloud Servers Now Available
With a selection of SSD Cloud solutions available in over 10 global locations, you'd be mad to pass up this opportunity. We also have very reasonable pricing for web hosting and a selection of over 100 tlds if you'd like to register a new domain with us! Pricing on the site is primarily in £GBP, but we also accept (with automatic currency conversion) USD & EUR.
rAthena Hosting Packages
We've bundled together some amazing packages to get you started, whether you're new to hosting an rAthena server or if you're an old pro!
Cervantes Unattended Installer

Our Cloud Server platform is complemented by Cervantes, our unattended installer script for rAthena. It's free to use and will automatically install rAthena, git, MySQL, FluxCP and VNCserver. It all gets automatically configured too so you can just login, click "Start Server" and connect! It also now generates your first Full Client.zip package to download - it even makes it available on your downloads page after completing the FluxCP installation! Here's a few screenshots.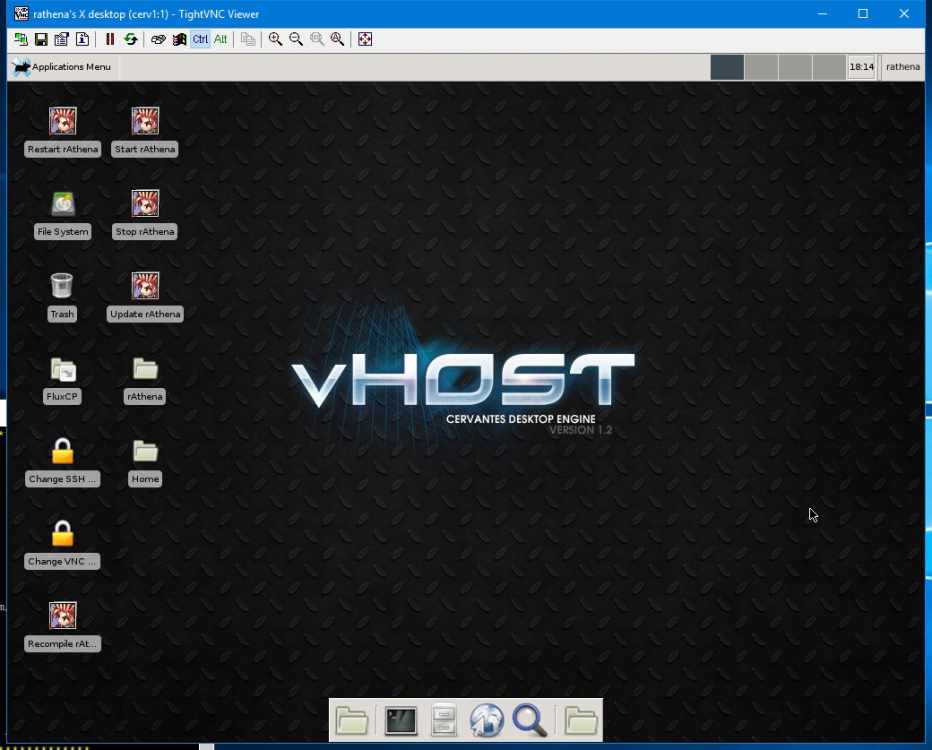 Cervantes is a bash script that has been developed to work on our Debian 10 systems. It may work on other versions of Debian, but we won't provide support for installations outside of our Cloud. As stated, this will generate problems if it's not being used on a Debian 10 server. Select Debian 10 when ordering your Cloud Server (it's selected by default) and you'll get the 1 line instruction in your welcome email.
If you have Cervantes installed on your Cloud Server, we'll know that you need a little bit of extra help along the way - so if you break your mapserver or can't figure out why you're getting errors all over the place, submit a ticket and we'll sort you out!
Due to resource requirements, you cannot run rAthena and MySQL on a server with only 512MB or RAM. An unedited mapserver runs around ~395MB on it's own. Our 2GB plan gives you the freedom to install Cervantes and run your server with plenty of resources to spare.
Control Panels
FluxCP Advanced Installation 

Includes install, configuration and theme tests with latest rAthena FluxCP.
Your custom addons will be installed and tested with desired theme.

FluxCP Modules/Addons

Cost is based on complexity and time required
Small singular/contained modules are cheaper
Large modules that integrate with other modules cost more
Submit a support ticket via the vHost website and we'll discuss your requirements and a fair price
If you would like to talk to me about any of the above services, or would like me to work on something a little different then please contact me!
PLEASE NOTE: Conversations, discussions, invoicing, purchases, etc now needs to be done via the vHost website in order to better manage my time and provide you with better support.

I impose a Service Level Agreement (SLA) of 72 hours for most services. Some may take 10 minutes, some may take 7 days. This will be discussed when you send me a list of requests.
 
I will begin work on your request after the invoice for the total purchase price has been paid. If you require split-payments over invoices, please submit a ticket tot he billing department and we'll see if we can come to an agreement. Products/services will be completed based upon the information provided by the customer via rA Forum PM, so please be concise! Screenshots can be provided along the way for theme/graphic work. Chargebacks that occur after services are completed will result in all customer's information, along with all correspondence being sent to paypal for review. Scammer topics will be created on the rA forums too. You've been warned.
 
 
About Me
Over the last decade I've been using my skills as a web developer to accomplish tasks and complete projects within large organisations within the UK. Most notably being a railway operator where I implemented a new web service for live train running information, missing persons, latest news, weather, etc at all stations on our network. Having saved the company £500,000 in outsourced development fees I was head-hunted to work for Blizzard Entertainment where I managed a team of international programmers who optimised the Cataclysm expansion.

I've always been a part of the Private RO Server scene in one capacity or another, and I've developed somewhat of a passion for rAthena and various members of its community. I became the Forum Administrator after being asked to come back to the project to help iron out some large forum bugs, perform upgrades and create a new approach to building our emulator. And there's still so much to do!
---