| Base EXP | Job EXP | Quest EXP | Base Drop | Equips Drop | Cards Drop | MVP Equips Drop | MVP Card Drop |
| --- | --- | --- | --- | --- | --- | --- | --- |
| 25x | 25x | 25x | 10x | 10x | 10x | 10x | 0.02x |
NovaRO is a private Ragnarok Online server utilizing Renewal mechanics, whose mission is to remain faithful to kRO. While iRO offers an English experience to all Ragnarok Online fanatics, it is plagued with a multitude of issues such as bots, real money trading, huge amounts of lag, awful English translations, pay to win cash shop, and many more. We work hard to offer an alternative to players who wish to avoid these issues, and yet still have an English-speaking community to play with. 
Our mindset is very much that of adding content on top, almost never replacing or modifying. It is because of this that we are sure you will find an authentic Ragnarok Online experience, without worry of the issues that plague the official servers, and with a multitude of quality of life NPCs and features that will make your experience that much more enjoyable. We have a team of experienced Game Masters, all of whom have many years of playing under their belts. This makes it easy for us to understand our players' needs and act accordingly. And if that wasn't enough, we've got an extremely healthy community, with 1000~1400 players regularly online, who love to help new players and answer any questions that might arise.
Base: 25x
Job: 25x
Quest: 25x
Item Drop: 10x
MVP: 10x
MVP Card: 0.02%
Opened: October 24th, 2014
Episode: 15.2 Memory Record
Max Level: 175/60
Max ASPD: 193
Max Stats: 130 (3rd job)
RAM: 32GB RAM, DDR3
Processor Speed: 4.0/4.4 GHz - i7-4790K
Connection: 250Mbps
Hosting Location: Canada
Name of Host: OVH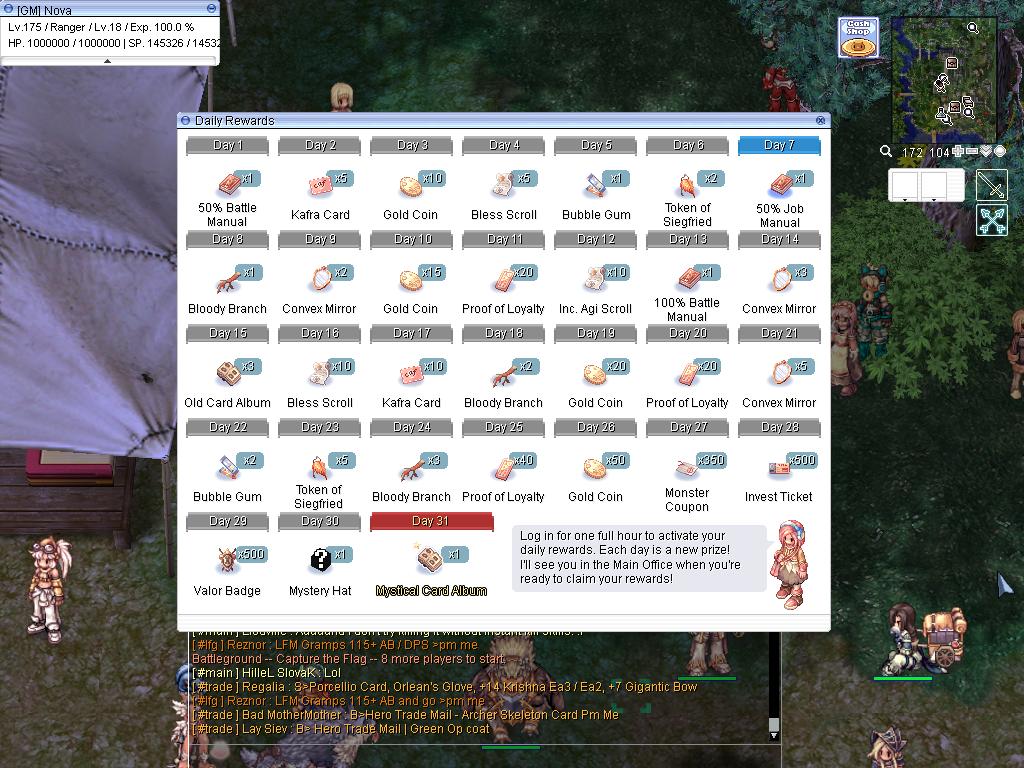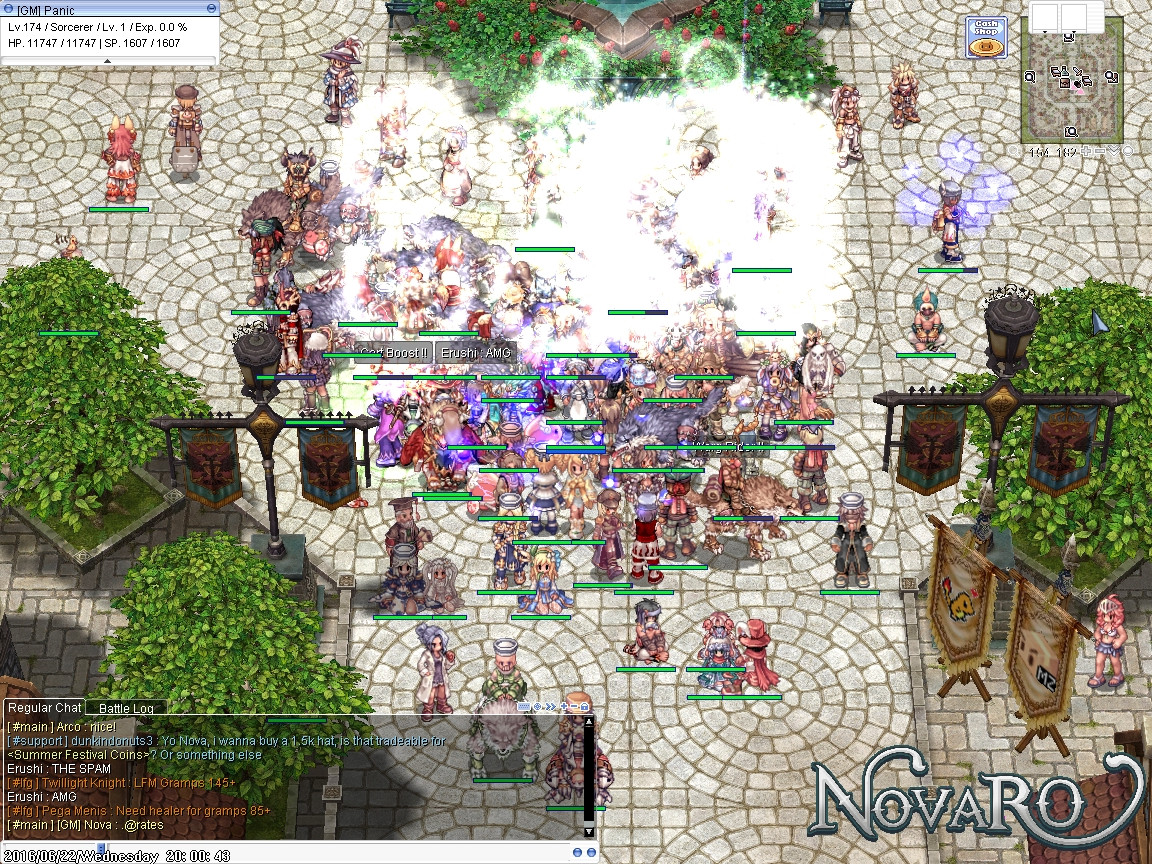 Extremely up-to-date. Rebellion Awakening, Doram (Cat) Race. Exclusive jRO-only Alternate Outfits.
More instances than any other server (Save for the official Korean server!)
Custom Battlegrounds system with randomized teams and multiple game-modes.
Daily Reward Calendar (Seen in screenshots above)
Seasonal Events! Here's a video a player made of our exclusive, custom made, Summer Festival:
(Video by Munbalanced, feel free to check out his entire Channel, it's full of content guides!)
Summer Festival will not be available again until next year's Summer.
Max Party Share Limit: 30 Base Levels
Costume NPC: Any headgear can be made into a Costume headgear.
Customized Tool Dealer: Includes Grape Juice and Mora Mandarin
Official Premium Palettes
Custom Utility NPC Map
Custom Vending Map
Crimson Weapons
Automated Events
Overlook Water Dungeon
Quest Boards up to 175
Renewal Drop table removed
Commands: joinbg, listenbg, rates, refresh, autotrade, me, iteminfo, help, homtalk, noask, pettalk, reject, autoloottype, go, alootid, who, noks, time, channel, showexp, changegm, showdelay, accept, whereis, whodrops, leave, showzeny, hominfo, invite, commands, jailtime, request, autoloot, homstats, duel, mobinfo, rms, irowiki, search and more!
Cool character cards which update real-time based on your in-game stats and equipment.
And way more really cool features! There's too many to remember them off the top of our head, so play now and let us know what we missed in that list. :]
2