Description
[Client Mods] Paint it black
Release:
Hello everyone. norm here.
Today I want to present you my project "Paint it black", a client mod pack.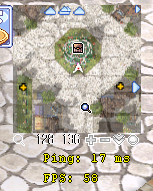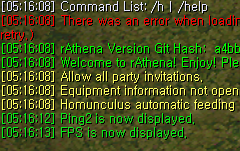 Donation goal
Let's talk about money first. I am really passionate about Open Source and free releases so why on earth is this a donation goal? >.<
Well, as much as I like free releases I also love rAthena.
All this is my hobby and it's only possible because rAthena provides the base and community FOR FREE. But as everything in the world it comes down to money, rAthena needs some sort of income to offer all this awesome work. Unfortunately we didn't receive any donations to cover the february and march hosting.
That's why I decided to not release my project for free instantly but instead opened this donation goal.
All the money donated towards this goal goes directly to rAthena, none of it goes into my pocket!
Hope my motivation is clear and I will now present my project
The project
As said in the beginning it's a client mod pack which will support multiple client dates and will be open sourced.
Current available features:
-   Chat timestamp
-   Ping display
-   FPS display
-   Chat commands to control features.

Future features I want to add:
-   Packet encryption
-   Statistics
-   Custom splash screen
-   RCX (colored tiles)
-   Colored character names

Depending of the complexity of these features they may take a while and are not 100% guaranteed to be implemented. Also they maybe donation goals as well.
You can also feel free to suggest features.
Client dates
Which other clients should be supported depends on you. Make a suggestion and I will make the mods compatible.
For two months (starting now) I will add 2-3 of your requested client dates. After these two months I want to add at least one client date on a bi-weekly cycle. If you really need your client date to be supported as fast as possible you can donate me a coffee or energy drink (2$) and I will add it.
BUT WAIT!! Didn't I say "I love free releases bla bla" and now I want money?! How pathetic! Well, adding client dates is kinda boring and I really "hate" boring things but if I can sit down drink a coffee and work on it I won't "hate" it that much :). So I hope you don't mind.
Release
Once the donation goal is reached I do the following as fast as possible:
Sharing a guide which shows how to add the project to your client. (It's really simple and I will include pictures!)
Posting a link to the open source code.
Providing pre-compiled DLLs for all supported client dates for those who don't want to build the project on their own.
Publishing my ghidra scripts. (helps at looking for hooks)
Publishing the debug-server.
Helping if something does not work.
Epilog & Credits
So if you like this project and want to support rAthena go ahead try to reach the donation goal.
Thanks to:
rAthena team for allowing me to open this donation goal.
SHR (https://github.com/sekishi1259/SimpleROHook)
rEx (https://github.com/curio-r/rextensions)
Greetings,
norm
---