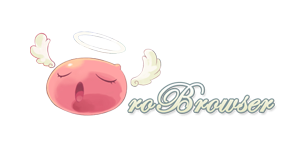 Hi !
I'm here to introduce my own project wich called roBrowser.
What is roBrowser ? What's its goal ?
roBrowser means "Ragnarök Online in Browser", the project was born in 2008 and did not stop evolving since.
Its goal is to play Ragnarök Online directly in the browser, using directly your own GRF or if you don't own one, use a server to fetch files !
Basically I'm only using javascript and html5, but some others one are need in some case:
0-5% PHP/CGI (only if you set a remote host to access GRF content, if you use a local GRF, you don't need it).
0-1% Flash. (Depend if your browser is able to play .mp3 files)
0-1% JAVA. Just here as a socket bridge (if your browser don't support a native socket implementation).
93-100% Javascript/HTML5.
I use javascript to build and parse socket, to render the 3D scene (using WebGL), to draw UI interface, parse RO files, path finding, ...
Javascript is powerful, not as much as C/C#/C++ but become faster with the time and with
a lot
of optimizations can run 3D game.
Here the website :
www.robrowser.com
for more informations.
Some screenshots:
The project is currently under developement, and will be release before the end of 2013.
roBrowser will be open-source in futur, when a stable and playable version will be build (after the beta), it's currently stored in a SVN.
Some bad things
Don't support model animation (The animation is freeze to keep fps up)
Lights objects and Effects objects aren't display yet.